Ollie makes bid for Shaw Trophy!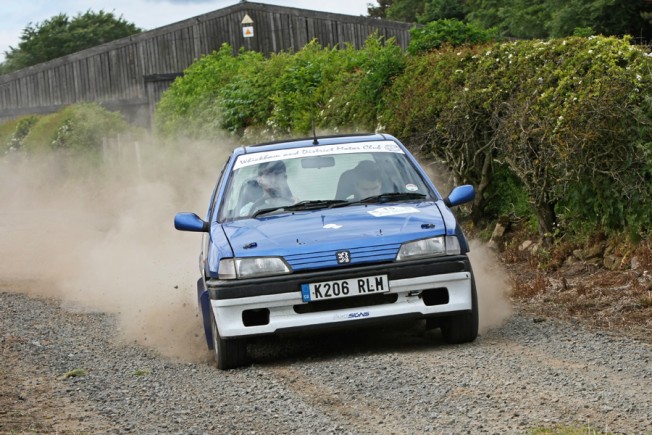 Sunday 16th June saw the return of the Shaw Trophy Classic Rally and Targa Rally to the beautiful countryside of Northumberland, with the start and finish venue at the High House Brewery at Matfen. The event was running in a new summer slot and attracted a steady entry of 20, many of whom had travelled from north of the border. With the event made up of 2 regularity sections and 14 tests on private tracks and farms, it provided a good challenge for both members in the crews.
Tom and I were out for the first time this year after missing earlier events with other commitments and spending most of our money on the 'new' black 106. We spent a bit of time on Saturday sorting out some little niggles, and getting the handbrake nice'n'tight, only for it to slip again after the 2nd test, so the remaining 12 were all done either without it or with Tom having a real good go, which resulted in some laughs in car, especially when it locked on and then wouldn't release. When it finally did release, there was an almighty backfire – the timing of which couldn't have been better. Sorry to anyone on Whitchester who thought the Koreans were attacking; it didn't sound too loud in the car, from what I recall! The tests were great in the challenges they all offered, my particular favourites being Turpins' Hill, Col de Beechfield and Beechfield Drive – despite losing a flap. Lunch stop at Beechfield was again brilliant, and big thanks go to Jo and co for preparing great sarnies and quiche; lots of it, too.
With the sun continuing to shine for the afternoon leg and dust constantly clouding around marhsalls at the stop astrides, the battles between various crews continued too – Darkie and Ross Butterworth battling it in the Mk1's although I think Darkie's eye was more on the Entertaining Crew awards, which obviously means going fast, so still in with a chance of top spot. Tom and I were battling with Doddsy and Pete Gibson in the French Revolution. As well as a bit of camaraderie between the Pug crews, at the end of each test at least one of us would casually, with that underlying competitive edge, ask 'what was…er..your time there lads?' and another comment of '..Ha, this is gonna be a close one!' It was tight and would have been more so had Doddsy and Pete not picked up a wrong test at Whitchester 2 and before that Regularity 1 had added a few more penalty seconds than they would have hoped, I blame the trip not working for that one, ey Peter?!! At least you got value for money with the mileage on Whitchester.
The overall standings were virtually identical to the seeding that had been allocated prior to the event and, after a great variety of tests and regularities, it was the Ford Escort Mk1 Mexico of Ross Butterworth/Andrew Fish who took the Classic Rally win and the overall honours on 15m37s. In the Targa Rally Darkie Lewis/Dan Lewis in another Escort Mk1 took first, as well as second overall time of 16m05secs. The Lewis pair also picked up most entertaining crew of the day. 3rdoverall and 2nd in the Targa Rally were Ollie Currie/Tom Wells in the less powerful Peugeot 106 Xsi, 13s back on Lewis' escort.
Class Prizes were also awarded to Simon Parsons/Jessica Dickson in the Austin Healey Sprite, also best on the Regulartites, and David Heirs/Richard Welsh in the fantastic Saab 96. Ross Butterworth also scooped the Best Presented Car at Scrutineering with his immaculate Mk1, although I must admit after the amount of time I spent cleaning the engine bay in mine I'm devastated not to have got that award, Col! Dan and Kev will vouch for how gleaming it was, I'm sure. BIG Thanks go to all the organisers at WDMC, as well as the dust covered marshalls who did a great job, and even had the weather on their side for once. Thanks to the landowners, who received the Spirit of the Event; in particular, Tony Thompson for supporting the event again and helping to make it a great day out. Here's to next year having a booster entry with everyone enjoying it as much as they did today.
Overall Results:
Ross Butterworth/Andrew Fish (Ford Escort Mexico) 15m37s
Darkie Lewis/Dan Lewis (Ford Escort) 16m05s
Ollie Currie/Tom Wells (Peugeot 106 Xsi) 16m18s – Whoo Hoo!
Simon Parsons/Jessica Dickson (Austin Healey Sprite) 18m03s
Mike Smailes/Bryan Smith (Gilbern Gernie) 19m21s
Chris Dodds/Pete Gibson (Peugeot 205) 20m08s
[Please apply to Ollie for further interpretation / explanation of any of the above!]