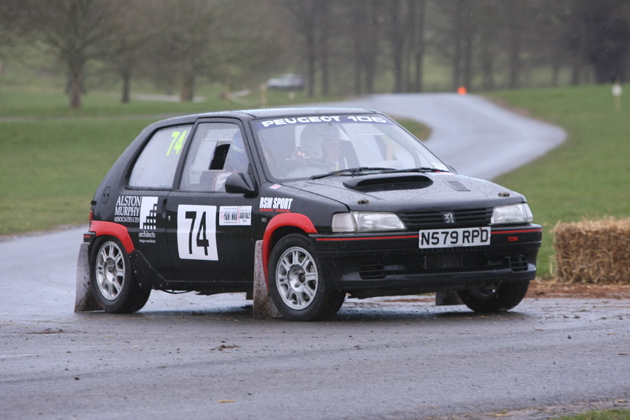 Rally enthusiast and AMA Architect Ollie, along with team mate Tom and after 16 months of building the new Peugeot 106 stage rally car, finally rolled her off the trailer at Weston Park in Staffordshire for their maiden event as 'car and crew' at National B level.
The morning run through the stately home estate was very slippy with heavy downpours and ruts bringing mud on to the tarmac stages, catching many including ourselves out. On the whole it was a steady start to get to grips with the car. With Tom driving the event, for the first time competitively, and it being local to his parents home, he set some impressive times on the morning run of 5 stages. One stage was lost due to the air ambulance being required to attend to two members who rolled their Ford Escort after clipping a tree stump, fortunately both being fine and later released from hospital.
After a few adjustments to the camber and front suspension, it was back out in the afternoon for a reversal of the morning stages, now in dry conditions and able to push a little more. going into the final stage the boys were in a good position and hoping to break into the top 50. The pair were pushing to the finish and approaching the penultimate chicane, which had gravel from the reversed morning loop on the entry into it, the back end stepped out and we found a bale rolling over on itself. It was a heavy impact which put a sizeable dent into the rear quarter [and AMA livery!] but Ollie urged Tom to get to the finish. Only cosmetic damage affected the car but we lost a few seconds in the incident and ended the day 7th in Class and 51st O/A, equal on time with 50th and well up on our seeded position of 74th.. Only 5s separated us from 43rd and 4th in the class so a lot to take away from the day with  good pace.
The car is now getting fixed and will be ready for the next event which will hopefully be the John Overend Memorial Rally, on Melbourne Airfield on the 11th May. To get your company on the car, contact Ollie at the office.