Durham Dales Targa Rally 2013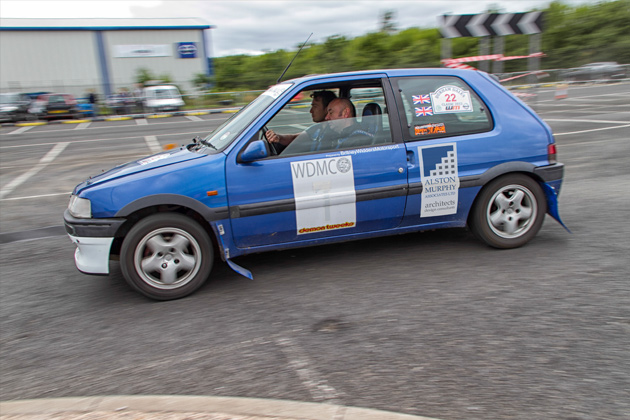 Cool Runnings! Great film and the way it ended, brilliant – you know, with the two blokes pushing it across the finish line?! Hang on a minute, there were four of them but it's easily mistaken for the same ending in the film as on the 'Dales this year.
Ollie was out with Paul Hughes were out in the blue 106 and having started slowly, a near wrong test on 1 then a driver error resulting in a wrong test on 3 meant after the first loop they were on the pace but down the standings. After a better middle part of the day they were up to 1st in Class and fighting for 6th o/a.
With two tests left this was still the case. On two occasions the car had popped out of gear and during the penultimate test they thought it had done it again. This time the clutch pedal had popped up and it was seen in an unusually high position. Having checked it out, the lever had some play on top of the housing so with one test left it was decided to get her going and 'cruise' to the finish with little, to no gear changing. In fear that something might happen, they let the other competitors through and sure enough followed them in.
It was all going OK until the final straight – with a few chicanes and a mere few hundred metres to go – then something went crunch. So cue, Cool Runnings, Currie and Hughes pushed the poorly car past the chicanes and over the finish line stop astride – wrong test! It didn't matter too much as they had managed to get a finish and have a laugh along the 4 minute push stint! They got a tow back the HQ venue and finished the day 5th in class and 15th o/a. While it was fantastic day with some excellent tests, it was disappointing not to have finished with some silverware at the very least but yet again the 'Dales proves to be a tough little challenge on not only the crews but the cars, with quite a few retirements from driveshafts!
Paul Swift/Jess Bell had led the event until lunch when the Mk1 RS2000 packed in with a misfire, leaving Archie Simmonds/Richard Simmonds to win by 17s from Tom Hall/Bob Hargreaves with last years winner Gordon Clendinning/Murray 'Not the Commentator' Walker in 3rd in the Chevette. Big Thanks to all those who helped on the day, Durham for putting on what it fast becoming a great event and well done to all the competitors, in particular the award winners. A score is to be settled in 2014 for round 4 of the pug vs test track!